综述
25 V single-channel low-side gate driver with integrated fault reporting and enable functionality
EiceDRIVER™ 25 V single-channel low-side non-inverting gate driver IC for MOSFETs or IGBTs with typical 2.6 A source and sink currents in a tiny 5-lead PG-SOT23 package. 1ED44171N01B can also be used in conjunction with IPMs, such as IFCM10S60GD, which integrate a PFC IGBT but no PFC gate driver IC.
The proprietary latch-up immune CMOS technologies enable ruggedized monolithic construction. The logic input is compatible with standard CMOS or LSTTL output. The output driver features a current buffer stage. The 1ED44171N01B provides an integrated fault reporting output and adjustable fault clear timer at the under voltage condition of VCC.
1ED44171N01B can be used as a second source option to the popular IRS44273L with a single PCB layout. It's enabling a single-supplier, dual sourcing strategy for fast-reacting supply flexibility.
REF-SHA35WRC2SYS (version 2.0) is a full-featured high voltage ceiling fan reference design. The main board includes IMD112T iMOTION™ driver which provides turnkey PFC and motor control with the field-proven MCE (Motor Control Engine), that eliminates software coding from the ceiling fan motor control algorithm development process. It includes the 1ED44171N01B for the PFC gate driver IKA08N65H5 DuoPack IGBTs and diodes for PFC switching, and the TRENCHSTOP(TM) RC-Series IKN03N60RC2 that provides cost-effective, monolithically integrated IGBTs with diode for the inverter stage.
特征描述
Single pin for fault output and enable
Programmable fault clear time
Wide supply voltage rage with 25 V VCC max
Under voltage lockout
-10 Vdc negative input capability of "IN" pin
3 kV ESD HBM
优势
Fault reporting for switch monitoring
Flexible fault clear time set-up
25 V VCC max makes the IC more robust against VCC spikes in harsh circuit applications
Under-voltage lock out provides protection at low supply voltage
Industry standard package
High level of ESD protection for robustness
Find our Variations for 1ED44171N01B
| | | | | | |
| --- | --- | --- | --- | --- | --- |
| Part No | Package | Channels | Io+/- (typ) | UVLO (on/off) typ. | Features |
| | SOT23-5L | 1 | 1.5/1.5 A | 10.2/9.2 V | additional OUT pin for easy layout |
| | SOT23-6L | 1 | 2.6/2.6 A | 8.0/7.3 V | integrated overcurrent protection with negative current sensing |
| | DSO - 8 | 1 | 0.8/1.75 A | 11.9/11.4 V | integrated overcurrent protection with positive current sensing |
| | DSO - 8 | 2 | 2.3/3.3 A | | |
培训
1ED4417x family of 25 V single-channel low-side gate drivers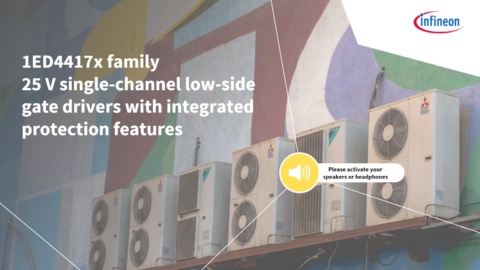 In this training, we will focus on our low-side gate driver family – 1ED4417x and on its target applications. With this information, you will be able to grow your businesses by winning new designs and customers.