AURIX™ Family – TC35xTA (ADAS)
综述
High performance radar and autonomous driving microcontroller
Infineon releases its second generation AURIX™ TC3xx microcontroller in embedded Flash 40 nm Technology. It comes with an increase in performance, memory sizes, connectivity and scalability to address the new automotive trends and challenges. In terms of performance, the radar application high-runner TC35xTA offers 3 cores at 300 MHz, up to 3.6 MBytes embedded RAM, and consumption below 2 W. Its mirrored embedded flash banks (2x 2 MB) support A/B swap capabilities.
Key features
3 TriCore™ running at 300 MHz (with 2 additional checker cores delivering 2100 DMIPS)
Up to 4 MB flash/ECC protection
Up to 3.6 MB SRAM/ECC protection
1 Gbit Ethernet
8xCAN FD 1xI²C 4xASCLIN ,1xFlexRay ,Radar/ext. ADC IF (RIF),4xQSPI
8x400 Mbit/s LVDS Radar Interface;
2x SPU (Signal Processing Unit) for Radar signal processing
EVITA Full HSM (ECC256 and SHA2)
BGA-292 package and BGA-180 package
Developed and documented following ISO 26262/IEC61508 to support safety requirements up to ASIL-D/SIL3
AUTOSAR 4.2 support
Single voltage supply 5 V or 3.3 V
165°C junction temperature
Standby mode controller
System benefits
Complete Infineon chipset: MCU, front-end MMIC and safe power supply
Highly integrated solution for performance demanding radar applications
Target Applications: Safety applications
Highly integrated automotive 77 GHz radar chipset : Thanks to its proprietary radar accelerator IP (SPU), the new TriCore™ AURIX™ TC3xx family will bring another level of performance to radar applications, as well as fulfilling the ever-growing requirements regarding safety and security in the ADAS market.

Automotive 24GHz Radar chipset: Offers cost effective solution for meeting the needs of 24 GHz radar systems.
The new features and increased SRAM, in conjunction with outstanding safety features, enables a high level of integration
and reduction of complexity.
Industrial radar systems 60GHz : 60GHz ultra-wide band (57GHz-64GHz) technology and cognitive sensing capabilities enables ultra-short range applications such as advanced presence detection for power saving in smart gadgets or smart conference room systems, gesture sensing for infotainment systems and mobile devices, material detection, contactless or contact-based vital sign monitoring and also can be used in industrial robotics for collision warning.
Interactive Diagram [ pass over the diagram with the cursor to learn more about the features ]
亮点
Click on the bubbles below to discover more about the key features, safety and system benefits of the product
合作伙伴
AURIX™ Preferred Design Houses (PDH)
Click here to explore AURIX™ Preferred Design Houses ecosystem
Preferred Design Houses (PDH) for AURIX ™ and XMC ™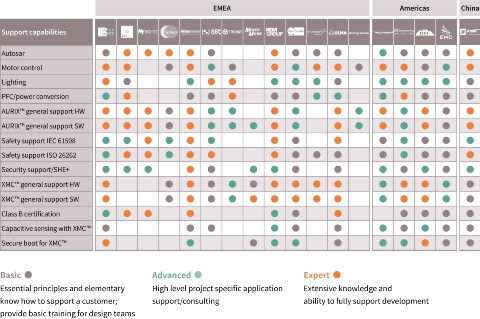 面向开放市场客户进行优化,为其搭载AURIX™或XMC™的系统提供包括软件和英飞凌其他产品(如功率器件、传感器产品和模块等)在内的支持。这些机构经过了培训,帮助您找到以应用或产品为导向的针对性方案。
支持模型

一级客户支持,为英飞凌的产品和解决方案提供保障
提供技术接口并对客户提供支持
在客户方提供设计支持
为客户的设计团队提供基本培训
24小时内对客户的需求进行相应

项目管理和特定的应用程序支持
定义所需层次、控制和数据流结构等的通用软件架构规范
定义驱动设备程序规范并加以实现
优化软件组件以改善速度/代码空间
软件测试
为项目特定的功能安全提供支持
为项目特定的安全解决方案提供支持
安全支持
保密性支持
多核支持
合作伙伴
描述/联系方式

作为一家为独立的软件公司,ARCCORE为全球汽车市场提供AUTOSAR解决方案。ARCCORE的产品包括嵌入式软件平台及开发工具,可通过ARCCORE的主页轻松访问。ARCCORE拥有创新的业务模式,可对软件过程中的各个阶段提供支持,提供开源及商业许可条款。
http://www.arccore.com/

得益于对英飞凌MCU产品丰富的知识储备,Bluewind能够在产品设计的各个阶段为客户提供一体化专家级服务,涵盖设计周期的各个阶段:架构阶段、软硬件设计、产品测试、CE合规阶段和后期生产等。
http://www.bluewind.it/ifx_home.html

E2-CAD


作为一家采用简化架构的合资企业,E2-CAD于2001年由来自汽车电子行业的从业人员共同创立,为动力总成(电动汽车及变速箱)、仪表盘和车身控制等领域提供高水平咨询服务和产品开发支持。E2-CAD为嵌入式测试环境开发了一套快速的原型开发ECU。该ECU包含三个电路板:通用电路板含有面向传感器/执行器(电磁阀、电机、模拟输入等)的多功能接口,符合汽车标准的要求。其CPU电路板拥有Tricore TC 1797强劲的处理能力,同时配有BIOS以实现对应用软件的调整。此外,客户可选购第三方电路板,从而将其特定功能加入其中。
http://e2-cad.com/

Cichon Engineering Consulting




http://ing.cichon.com/infineon

http://www.elektrobit.com/

eSyslogic为工业、消费类和多媒体领域的客户提供服务,助力客户实现更加快速的设计。
在英飞凌8位及16位微控制器领域,eSyslogic积攒了丰富的经验,同时在应用系统层面拥有深入的专业知识,能够为客户提供完整的统包解决方案。eSyslogic可在下列应用领域中提供英飞凌微控制器解决方案:电容触摸屏、微型美容保健产品、健康产品、超薄健身配件、DVR便携式读卡器和无线充电器等。
http://www.esyslogic.com/eng/product/product01_1.asp

http://www.etas.com/

位于深圳的高科技公司Fineio已在业内建立起良好的声誉。我们提供专业的研发项目和完善的服务及支持,以满足客户提出的特殊需求。我们的产品和业务包含电磁炉、豆浆机、电磁热水器、空气加热装置、电磁压力锅、电磁式咖啡加热器、商用IH加热器及感应加热装置等。我们拥有专业的团队,在研发、设计和销售等方面经验丰富。我们的业务目标是,拥有广泛的称赞和影响力,成为所属领域的最佳品牌,
http://www.fineio.com/en/

FTDI旗下的MM232R和UB232R是面向英飞凌XC800微控制器通信的工具,具有简单易用的特点。 这两款器件能够提供个人电脑的USB端口和微控制器UART端口之间的无缝连接,同时能够配合FLOAD(属于DAVEBENCH)实现高效运转。

应用:


http://www.ftdichip.com/Products/Modules/DevelopmentModules.htm#MM232R

凭借着在微控制器设计领域积攒的35年经验,Hitex提供基于英飞凌微控制器软件、硬件及测试的开发工具和服务。对于符合SIL/ASIL(IEC61508及ISO26262)或B级标准 (IEC60335及IEC60730)的安全应用,Hitex可为您提供咨询、自测软件 、集成和认证等方面的支持。
https://www.hitex.com/

IHR是一家位于德国Rheinmünster的独立企业,在全球范围内设有办事处和公司代表(创立于1992 年,起初作为驱动器/总线软件(CAN、LIN、Flexray网)的测试实验室及开发商)。此外,IHR始终致力于与汽车领域内的一级供应商和OEM开展合作,参与到步进电机、执行器、车内通风和座椅舒适度调节等领域。项目(包括ASIL要求)将按照IHR Q管理体系(类似于ISO TS 16949标准)执行,工作以 SPICE流程为指导。

面向汽车行业的跨领域开发工具:

LIN驱动器(依据LIN1.3、2.0、2.1、2.2和SAE J2602标准)
闪存引导加载程序(以OEM规格要求为基准的LIN、CAN、以太网专供方案)

其他解决方案包括:

用于分析网络时间的专业系统
测量工具集成控制单元
OEM和一级供应商生产测试工具

http://www.kpitcummins.com/

Kyocera公司提供专业的晶体和谐振器匹配服务,实现对客户电路板的评估。我们为您提供振荡器电路微调服务,并通过优化电容和电阻,获得最佳的性能和精度。如需查询我们的服务和产品,请点击以下链接:
https://www3.kyocera.co.jp/form/app/input?region=gl&frmid=elect

http://www.medianesysteme.com/

英飞凌与MESCO Engineering公司开展合作,为使用英飞凌微控制器的IO-Link开发和全面工程服务提供参考设计。MESCO IO-Link器件被移植到XC800微控制器中。
https://www.mesco-engineering.com/

20多年来,PIXEL集团旗下的Mixed Mode公司始终为客户提供嵌入式及软件工程支持。 由于Mixed Mode公司是英飞凌的首选供应商合作伙伴,因此我公司拥有英飞凌微控制器平台和工具(如166、XMC、TriCore和Aurix系列)丰富的专业知识。

除了专业的开发服务外,Mixed Mode还为客户提供技术和流程咨询。

在公司座右铭"technik.mensch.leidenschaft"(科技、人、热忱)的指导下,我们为复杂的项目带来高质量成果。

欲了解更多信息,请前往我们的网站 www.mixed-mode.de

http://powerelectronics.de/

Murata公司为陶瓷谐振器和晶体提供技术支持,为英飞凌的微控制器提供最佳的振荡电路。
https://www.murata.com/

NDK Nihon Dempa Kogyo Co.Ltd是石英晶体行业的顶级品牌之一,成为该领域内的市场领导者,尤其是在汽车应用和电信领域中。凭借着在电路设计方面的丰富经验,我们提供测量服务以确保振荡电路中晶体的稳定振荡。有关我们服务的详细信息,请参考我公司德国合作伙伴Frischer Electronic GmbH的网址:
http://www.frischer-frg.com/

PowerELab为开关电源产品提供设计服务和整体解决方案的时间已有十年之久。我们在基于英飞凌微控制器和MOSFET的数字控制方面拥有丰富经验,并开发了可应用于高效转换器拓扑核心控制的标准MCU芯片组(http://www.powerEsim.com/提供在线仿真) AC-DC转换器、DC-DC转换器、LED驱动器、电子镇流器、电动汽车充电器、汽车电力电子、蓄电池充电器和逆变器等广泛的产品。我们的一站式设计和开发服务符合国际安全和EMC法规适用于批量生产问题。
http://www.powerelab.com/

在嵌入式系统领域,Softgate根据您的具体需求开发高性能软件。我们专注于实时系统、基础等级编程和通信总线领域。其中,我们在微处理器环境中的丰富经验扮演着重要的角色。Softgate公司在英飞凌8位及16位控制器和TriCore™架构方面拥有广泛的专业知识。目前,Softgate公司已经完成了来自汽车、医疗和消费电子行业中来种公司的诸多苛刻项目。http://www.soft-gate.de

http://www.sotec.eu

TELNET是一家提供离岸/近岸产品开发和工程服务的全球化供应商,采用合作伙伴关系的方式为全球客户提供服务。

TELNET专门为Aurix TC2XX平台开发出程序,为英飞凌的微控制器平台Aurix TC2XX提供经过培训和实践锻炼的工程师专家团队,以及ISO26262标准的基本知识。我们的目标在于,为所有AURIX TX2XX的用户提供支持,以实现所有软件集成目标,如复杂设备驱动程序开发、MCAL集成和Safetylib集成等。

得益于TELNET在巴黎(法国)和慕尼黑(德国)当地设立的子公司,我们能够为法国和德国的所有客户提供本地支持。
http://www.groupe-telnet.com

按照安全关键标准开发软件会大幅增加开发成本、支出和风险。因此,优化您的设计流程以实现高效且高性价比的合规性设计至关重要。我们提供长期或短期项目咨询和指导等服务,并提供法规层面的培训和咨询,帮助您减少软件认证、软件开发和测试服务的成本,从而指导、协助或完全外包您的所有软件工程活动 - 例如缺 口分析等。我公司深层领域专业知识和行业标准的实际经验包括:航空电子标准DO-178B、DO-178C、DO-254,医疗标准FDA 510(k)、PMA,汽车标准ISO 26262,铁路标准CENELEC、EN 50126、EN 50128和EN 50129,工业自动化标准IEC 61508
https://www.vectorcast.com/services/global-services
英飞凌为客户的特定应用提供编程服务。在英飞凌微控制器固件和软件的基础上,我们针对客户的需求,对汽车和电动机控制等应用进行程序上的调整。
想要了解更多关于编程服务的信息,请联系距离您最近的英飞凌销售办事处或以下任一合作伙伴:
公司名称及链接
C500
XC800
C166
XC2000
TriCore

™

描述



btv technologies gmbh

X
X
X
X
X
btv提供:7x24小时优质编程及相关后续服务。我们的客户主要来自于汽车和通信领域。我司通过了TS16949和ISO9001认证。



FALCON

X
X
X
X

Falcon Denshi K.K.为日本境内的客户提供涵盖从单一器件到批量生产的编程服务。Falcon编程中心可以提供ROM编程服务、打标、干式包装、二维检测、三维铅扫描和套接字清理修复等服务。

X
X
X
X
X

全面的自动编程服务:

Flatek成立于2002年,针对大中华区市场提供编程和测试服务,在台北、深圳、上海、成都和郑州设有分支机构。Flatek是一家通过ISO-9001认证的公司。

主营业务:

编程服务:Flatek的设备可支持各种芯片封装,并提供2D检查和3D铅扫描服务
自主开发算法和适配器
现场编程:我们同样致力于为客户的设备进行编程。得益于技术支持和标准流量控制,Flatek配备了先进的设备编程器和专业工程师,以确保精确的控制循环时间和质量
芯片标记及激光标记
卷盘和干包装符合EIA 481标准
功能测试及最终测试




Hi-Lo Systems

X
X
X
X

HI-LO SYSTEMS于2001年建立了编程中心 。该中心通过了ISO-9001和TS-16949认证 。HI-LO编程中心能够实现器件的编程、打标、卷带、烘干、干包装、激光打标、二维检测和三维引导扫描等服务,并且提供全面而有竞争力的解决方案,其中包括定制设备编程和封装。Hi-Lo为大中华区提供编程服务,包括台北、新竹、香港及上海等。




HTV GmbH

X
X
X
X
X

电子元件编程:

• 编程能力高于750000个/天
• 对包括晶片在内所有电子元件进行编程
• 自主开发算法和适配器
• HTV现场编程 - 对客户的设备进行编程

此外,我们还提供全面的服务,如复杂的序列号编程、带3D检测的自动化包装和卷轴服务、激光打标及标记清除等。

电子元器件的测试及认证:

• 测试能力高于450000个/天
• 数据表和电气真实性测试
• 部件认证和环境模拟
• 筛选特定参数
• 全自动化大容量测试仪
• 开发测试程序和ASIC

HTV提供快速、灵活的测试解决方案,以满足特定客户的需求。 我们可对晶圆、元件和组件进行测试并验证。
我司工程师专门从事复杂的测试应用,包括自主开发的测试程序和机器人。

电子元器件的长期保存:

我司独特的吸热型气体阻隔法TAB®可实现长达50年的组件或成套设备保存。
有特定物理和化学老化过程的产品在报废之后仍然保存数十年。

对电子元器件进行分析、包装、晶圆切割和镀锡等处理。

认证:ISO/TS16949及ISO9001

X
X
X
X
X

全面的自动编程服务

得益于在10年间积攒的经验,ProMik为客户提供值得信赖的编程服务以及完全自动化的集成编程系统。我司的服务范围涵盖自动设备处理/编程及铅检查(二维共线性级三维共面性)、激光标记以及可追踪物流服务。此外,ProMik为客户带来额外的优势:现场工程技术知识。

编程

专属自动化处理程序、编程工程师及算法,例如验证编程优化及高速、高质的验证算法
根据客户产品的具体规格生成序列号
产品周期内100%可追踪,包含设备ID层面
各个器件的最终测试(功能/内存)
2D共线性和3D共面性视觉检测

激光标记

固态激光器,具有出色的可读性
标记不会影响设备的真空处理

编带

基于视觉控制的设备布局及合理性检查
单独的编带服务
2D共线性和3D共面性视觉检测
符合EIA481标准
干式封装(如有需要,可提供"比萨饼"式包装)

物流支持

Promik在该领域拥有丰富的经验,能够为主要的汽车客户提供STL(配送至生产线)服务
TS16949及ISO9001认证

X
X
X
X
X

SEMITRON W.Röck GmbH于1975年由Dipl.-Ing. Werner Röck先生在德国南部创立。
目前,我司已积累了超过40年的经验!

我司目前拥有140名员工。作为一家独立公司,我司架构灵活,层次分明。
我公司已通过ISO-9001认证,为全球客户提供编程服务。
公司分布于德国和瑞士。

对于MCU、EPROM、FLASH(标准、NAND、NOR等)、OTP、PLD等安全器件的编程,我们使用DATA I/O、BP微系统、ELNEC、HI/LO等系统。
近十年来,我司提供高度可靠的自动编程和编带服务(SOT23方案)。

标记选项:标签、墨水和激光
检测选项:2D和3D导线扫描
交货:文件盒、管式和编带
包装:ESD、干包装、氮气
编程能力:高达500000个/天

附加服务!

测试并选择电子元件
烧录、温度周期、温度骤变
军用级的高/低温测试
编带服务(轴向、径向、SMD)
电子元件分析
焊接/设备PIN码测试
编程服务公司提供方:
如果贵司提供专门针对基于英飞凌微控制器的编成服务并希望出现在该列表中,请填写下方联络表格以发送邮件。