综述
TLD7002-16SHIELD for Arduino
The TLD7002-16SHIELD is an LED driver shield compatible with Arduino UNO. The TLD7002-16ES is a 16 independent-channel-LED driver with individual output current from 5 mA to 76 mA and UART over CAN interface. The only needed connection from Arduino to drive 16 mid power LEDs is an UART interface and optionally the TLD7002-16ES GPIN0 pin, which acts as a chip-select during the TLD7002-16ES one time programmable (OTP) memory programming/emulation.
特征描述
Output current up to 16 x 76.5 mA
UART over CAN interface up to 2 Mbit/s compliant with ISO11898-2 (2016) CAN physical layer
16 independent 14-bit PWM engines from 100 Hz up to 2 kHz
Integrated diagnostics for load monitoring and device fault monitor
ISO26262 compliant development up to ASIL B
优势
The TLD7002-16SHIELD is a nice tool for a jump-start on the TLD7002-16ES programming with the simple Arduino IDE.
This board will be used during design-in, for evaluation and proof of concepts for new projects adopting the
TLD7002-16ES.
潜在应用
Automotive headlamp like rear combination light
Wiping indicators
Grill lights
Ambient light
软件和工具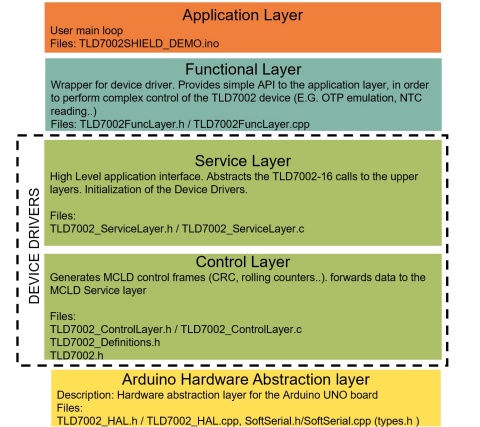 The TLD7002SHIELD_DEMO sketch is provided in IDC T.B.D link. The sketch adopts the TLD7002-16ES Device Drivers in order to perform light animations and read back ADC values from the TLD7002-16.
The link to IDC will be available soon!