综述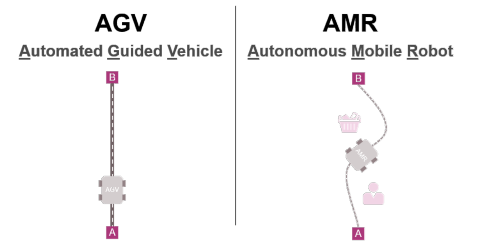 Mobile robots have become a firmly established part of day-to-day operations, may it be in logistic and warehouse centers, production sites but also hospitals, restaurants, schools, or as last-mile delivery vehicles of packages and goods.
Many types of mobile robots exist, but on a high level the two main types are:
AGV - Automated Guided Vehicle
AGVs are "fixed". They follow predefined paths using lasers, sensors, barcodes, or magnetic tape for navigation.
AMR - Autonomous Mobile Robot
AMRs are not "fixed" and don't need external paths. Autonomously mapping, navigating, and obstacle avoidance by using sensors.
针对启动-停止系统的功率分配(采用双电池方法)的应用要获得成功,许多因素都至关重要。包括实现智能、高电流、高功率开关以及避免因极低电阻元件导致的低功率损耗。最重要的是,您需要面对寻找具备诊断功能的高电压解决方案这一难题。英飞凌广泛的最优质产品系列恰好满足此需求。是什么使我们的解决方案独树一帜?复杂的诊断特性,包括温度和电流检测。以及实现无老化的许多开关激活。
产品
启动-停止系统的功率分配(采用双电池方法) 系统图
系统优势
智能高电流、高功率开关
固态电源开关提供带备用保险丝的继电器功能
超低电阻器件实现低功耗
备用保护模式:智能或保险丝保护
一些电源开关具备针对长控制线的电流输入控制
复杂诊断特性
实现无老化的众多开关激活
双向阻断电源开关
有源二极管功能
固态继电器(继电器外壳内的电源开关)
智能继电器驱动器,可选恒定电流控制